Israel as a Jewish Nation State: An Arab Perspective
Prof. Dr. Mohammed Wattad
10.12.2019 um 19:00 Uhr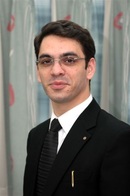 Der öffentliche Vortrag unseres Gastprofessors für jüdisch-arabische Koexistenz, Prof. Dr. Mohammed Wattad, findet am 10. Dezember unter dem Titel "Israel as a Jewish Nation State: An Arab Perspective" in Raum A 017 im Hauptgebäude der LMU statt.
Prof. Mohammed Wattad will discuss the various identities of the Arab citizens in Israel against the background of Israel's definition as a Jewish and democratic state all the more so in light of the recent enactment of the Nation-State Law. Juggling between legal, historical and political science theories and methodologies, Prof. Wattad will examine the meaning of Israel's definition as a Jewish and democratic state as well as the legal status of the Arab minority - both in the individual and the collective levels - in Israel.
Mohammed Wattad is an Associate Professor and the Dean of Law at Zefat Academic College. He is a legal scholar specializing in international and comparative criminal law, comparative constitutional law, international law and legal issues surrounding war, torture and terrorism, and Medical Law. Prof. Wattad holds a Masters of Law degree from Columbia University, where he earned as well his Doctorate of Juridical Science in Law, as a Fulbright Scholar. He is the 2015 winner of the Best Young Scholar Award on Israel Studies, the 2014 winner of the Excellent Lecturer Award of Zefat Academic College, the 2010 winner of the Maof Prize granted for Excellent Israeli Arab Academic Scholars by Israel's Council for Higher Education, and the 2007 and the 2008 winner of the Best Legal Oralist Award of the International Institute of Higher Studies in Criminal Sciences.
Um vorherige Anmeldung bis 6. Dezember unter juedische.geschichte@lrz.uni-muenchen.de wird gebeten.